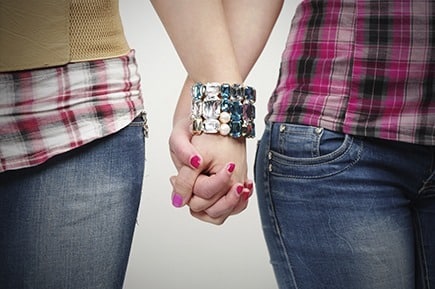 Relationships are funny things. They are, by definition, about the other person. But all too often, we use our own experiences to judge the other, determine what is best for him or her, and make decisions about the relationship. Empathy is the ability to see things from another person's perspective, and is a vital skill for ensuring your relationship lives a long and happy life. As the preparations for Valentine's Day begin, now is a great time to take stock of your relationship and cultivate more empathy. Here are five incredibly easy ways to do so, ensuring your best Valentine's Day yet.
Listen
You've heard it a thousand times: listen more, talk less. But sometimes the simplest advice is also the most profound. Especially in long-term relationships, it's easy to fixate on what your partner is saying wrong, what you're going to say next, or how you'll get what you want from your partner. Listening for listening's sake, though, is an easy way to cultivate deeper intimacy and actually, finally, understand what your partner needs you to know and hear. Commit to listening to whatever your partner has to say for a week, and you may find your whole life changing.
Look for Unmet Needs
Everyone has unmet needs, and you probably spend a lot of time focusing on your own. Maybe your partner nags you too much, doesn't listen enough, or doesn't buy you gifts you like. But if you have unmet needs, that means he or she does, too. Focus on figuring out what they are. Is there anything your spouse complains about a lot or asks you for? Anything that seems to chronically frustrate him or her? By meeting his or her unmet needs, you show a keen attention to detail and a willingness to continue evolving as a couple.
Ask for Guidance
It's the most obvious thing in the world: if you don't know what your spouse needs, simply ask. Too often, we're afraid we won't like the answer, or worried that asking means we aren't knowledgeable about our loved one. But asking for guidance is a deep act of love that displays your commitment to giving your loved one what he or she needs—even when you aren't able to independently do so. You may be surprised by how easy it is to meet your loved one's needs, if only you seek to find out what they are.
Practice Gentle Communication
When you're angry or frustrated, letting loose on your loved one can feel great—that is, of course, until you see the crushed look on their face and have to spend the next five hours fixing what you've broken. You don't need to say everything you think, particularly if it's negative. Commit to a week of gentle communication. Before you say anything to your spouse, ask whether it serves the relationship. If not, keep it to yourself. Sure, truthfulness is good, but love is even better.
Don't Bash Romance
Especially if you've been in a long-term relationship for a long time, it's easy to be overwhelmed by the pressure of Valentine's day, anniversaries, and other important holidays. It's tempting to deride these holidays, minimize the value of romance, and even decide not to celebrate at all. When you do this, you tell your significant other that your relationship is no longer worth celebrating or commemorating. Romance should never die, whether you've been together for one month or 30 years. Commit to doing something special every now and again, and sit back and watch your relationship flourish.
At The Three Seas, we also provide a range of counseling services including post traumatic stress disorder therapy, cbt services, and more! Browse our services today or contact us for more information.