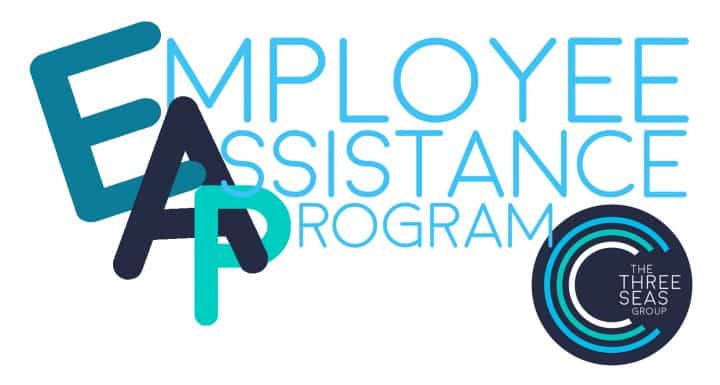 Employee Assistance Programs, or EAPs with The Three Seas are not limited to short term counselling (reactive intervention). We also offer a variety of services that are proactive and which aim to improve organisational health and well-being before the problems arise via thorough workplace well-being assessments, tailored intervention programming with psycho-education, workshops, leadership coaching and 360 degree feedback/evaluations.
Benefits for Employers
The benefits of EAP's for employers are broad. Three levels of value (short term and long term Return on Investment) have been identified. The three levels of value build on each other and include:
Workplace Performance Value – Savings from employee productivity, absence and other human capital areas such as workers compensation claims (e.g., due to high job engagement, job satisfaction, positive perceptions of the organization and reduced intention to quit).
Benefit Cost Value – Savings from health care, disability and other employee benefits.
Organisational Value – Savings from risk management and improved organisational development (staff morale, staff retention and recruitment).
External versus Internal EAP
In most cases, employers contract with an external third party (e.g., The Three Seas Psychology Group) to deliver and manage the EAP rather than providing the service in-house (e.g., via HR or a well-being unit). This arrangement is usually preferred for a variety of reasons. These include:
Employees feel more comfortable going outside of their workplace setting to seek and deal with personal problems.
Confidentiality is easily assured.
Reduced likelihood of exposure (e.g., from colleagues) when accessing the EAP services.
Reduced likelihood of dual relationships (e.g., your work colleague that you see in the staff room is also your treating psychologist).
EAP contracts with The Three Seas
At The Three Seas, we pride ourselves on providing immediate and accessible psychological services. We offer appointments in all of our three locations across Melbourne: CBD, Richmond and Knox. We also offer on-site services for employees who are unable to access our practice sites. Our psychologists are available in both normal office hours and after-hours and Monday to Saturday 8.30am-8.30pm, Saturdays 9am-5pm. We have same day appointments available and no longer than 48 hours of calling the practice would an employee need to wait to see one of our psychologists.
Employees can call our practice directly to make an appointment and they can be assured that their anonymity and confidentiality is maintained, We provide monthly reports to employers (using de-identified information) so that employers are able to monitor the effectiveness of the program and the types of issues that their employees are facing. Six and twelve monthly evaluations and reviews are provided so that the program can be further tailored to the needs of the organisation.
Confidentiality and Reports
Confidentiality and anonymity is guaranteed. Employees will not be identified in any way to your company. The Three Seas Group will, however, provide monthly or quarterly reports with common trends and recommendations overall in order to assist you in continuing to provide the best culture and working environment for your employees. Elements of this monthly report will only be provided when we can ensure it does not contain identifiable information.
Reports include the following types of information:
Most Common Presenting Issues which will include a Percentage Breakdown with descriptions of the variety of client issues being presented. Eg: Depression, Anxiety, Stress, Grief/Loss, Relationships, etc…
A Percentage Breakdown of attendance by males and females and whether the issue was Work Related or Personal.
A total report on the number of sessions being accessed by Employees over each month of the quarter. This will include an end of calendar report of all of this data.
A report with any recommendations submitted to us by our Psychologists, which they deem would be useful for you to be aware of.
Critical Incident Stress Debriefings (CISD)
The Three Seas Group recognizes the importance of planning for, and providing immediate and caring responses to, critical incidents that may impact the workplace. Examples of critical incidents that occur in and/or impact the workplace include the death of an employee or employee's family member, on-the-job accidents, serious injury, natural disasters, violent acts, robbery, and workforce changes.
In the event of a critical incident, managers can immediately consult with the EAP Critical Incident Stress Management team. The team will help the employer to develop a response plan which will often include Critical Incident Stress Debriefings (CISD). CISD's are on-site group meetings, generally held within 72 hours of the incident, with the goal of allowing employees to express their reactions to the event and to receive guidance on how to move toward recovery. CISD's have been demonstrated to accelerate the recovery of employees from traumatic events, helping business operations to get back to normal as quickly as possible.
Professional Development and Management Coaching
The Three Seas Group also offer the service of delivering tailor made Professional Development Presentations to suit the requirements of your company, should the need arise. In addition our Group has very highly trained Organisational Psychologists and Business Coaches who are able to deliver exceptionally high standard training and coaching to Management personal, should the need arise.
We are currently the external provider for small and several large organisations in Victoria. If you would like to talk to us further about EAP's with us, please do not hesitate to call us on 9809-1000. We also provide EAP counselling services. Contact us today for more information.