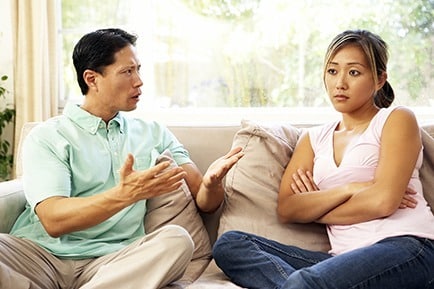 We live in a frustrating world. Endless traffic, mean-spirited bosses, incompetent co-workers, and so much more conspire to make life more difficult than it needs to be. Anger is a festering cancer in relationships, coming out at the least opportune times, and leaving your spouse, children, and family in alternating states of frustration, fear, and deep sadness.
The good news is that you don't have to live with anger issues. Here's what couples counselling with a focus on anger can offer you.
For the Angry Spouse
Few people are angry for no reason, so people who struggle with anger are often hesitant to go to counselling. After all, you'd be less angry if your life were better, right? Things are a lot more complicated than that. Anger is the product of frustrating emotions that you have not properly managed. Often it conceals sadness, inadequacy, and profound disappointment. Anger management in the context of couples counselling helps you find more effective ways to manage your anger, even if the rest of your life does not change. Better still, in helping you to manage your anger, it can actually reduce the number of incidents—particularly conflicts with others—that make you angry in the first place.
For the Spouse Married to an Angry Person
People who live with angry people often develop issues with depression and self-esteem. Some even find they struggle to manage their own anger. Even if your spouse refuses counselling—as many angry people do—counselling can help you find better ways to manage your own reactions to your spouse's anger. It can also help you understand why you chose to be with an angry person, and whether the relationship is merely frustrating or is outright abusive.
Anger Management or Couples Counselling?
Anger management and couples counselling are not mutually exclusive. Indeed, your couples counsellor can help you manage anger issues within the context of couples counselling. If your anger extends beyond the boundaries of your relationship, though, it might be better to pursue both couples counselling and anger management. Anger management specifically targets anger issues, cutting to the root of the problem more quickly and effectively than traditional counselling alone. It also helps you find ways to manage all varieties of anger—not just the anger you direct at your significant other. If anger is affecting more than just your relationship, consider trying anger management first.
What to Expect
Couples counselling and anger management rarely use a single approach. Instead, your therapist will partner with you to better understand your life, your challenges, and devise a strategy that meets your needs while helping you achieve your goals. Some of the things you'll talk about include:
How anger affects your life and relationship, and the ways in which it creates a cycle of more anger and more relationship problems.
Which specific stressors in your relationship and life most strongly contribute to your anger.
Healthy, normal expressions of anger versus destructive and abusive expressions of anger.
Common relationship problems, and how to safely and effectively address them without making your partner feel terrible.
Gentle questioning of your behaviour and habits; you can't change if you do not know what's wrong, and your therapist will help you and your partner identify problematic thoughts and feelings.
Help setting and working toward specific goals.
Assistance managing challenging emotions.
A judgement-free and compassionate space to discuss your feelings without worrying about those feelings being revealed to another person.
Help understanding whether this relationship is one worth preserving.
At The Three Seas Psychology, we understand that the decision to seek counselling can be a tough one, and we recognise that many clients come to us with intense anxiety about the process. Counselling changes lives every day, and can save even the most deeply troubled relationships. We think you'll be surprised by how quickly therapy can benefit you and your partner, and we're eager to offer you a customised treatment plan that works for your needs, your relationship, and your life.
We now offer telehealth counselling and phone consultations. To enquire, please call (03) 9809 1000.